Treasure Fine Jewelry
*Victorian 1870 Extraordinary Star motif pendant with 97.02 Ctw inlaid diamonds amethyst & pearls
Regular price
$14,950.00
$0.00
Exceptional Victorian Era pendant with diamond's inlaid.
An amazing and distinctive unique one-of-a-kind antique pendant from the Victorian era, circa 1870's. Has a large, oval faceted cut of a natural violet amethyst (37 x 30 x 14 mm) with a weight of 92.36 carats. This gem is meticulously inlaid with a star motif design, that is outlined in yellow gold and adorned with very fine inset rose cut natural diamonds.  
Set with 41 rose cut diamonds (1.42 cts), Inlaid at the center gemstone and accented around with an additional 31 rose cut diamonds, (3.24 cts).
Embellished around with 24 white-gray half rounds pearls of 2 mm.
The purple and violet colors, was one of the most fashionable and versatile colors of the Victorian era. In fabric shades ranging from pale, delicate lilac to rich, deep plum, it was suitable for day dresses, visiting dresses, riding habits, and evening gowns.
This piece have a total weight of 42.4 grams and a measures of 59 mm by 43 mm.
Engraved, with indistinctive hallmarks, maker's marks and the serial number, "4884".
It is in excellent condition with no gemstones replacements. The chain pictured is just for display and photograph purpose.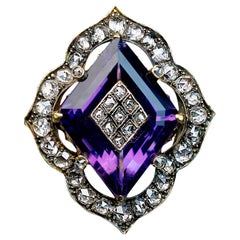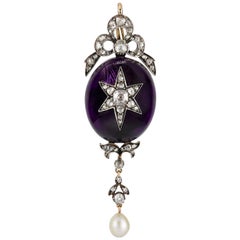 Note, This inlaid technique is extremely difficult to perform and only a very talented goldsmith can create it. this technique was reserved for very special and high valued pieces. please see the pictured examples.
INVENTORY REF: P0000EION/1.019
---
More from this collection