Treasure Fine Jewelry
*Arrigo & Olga Finzi 1960 Milan modernist sculptural repousse bangle in 18 kt gold
Regular price
$24,950.00
$0.00
Sculptural bangle-bracelet designed by Olga Finzi for Arrigo Finzi Arte.
Gorgeous statement piece of jewelry created in Milan Italy during the mid century period, circa early 1960's. This one-of-a-kind bracelet was designed by Olga Finzi for Arrigo Finzi, a luxury fine gallery and jewelry in Milano named Finzi Arte. 
The bracelet was carefully crafted in solid yellow gold of 18 karat and finished with textured, etched and brushed surfaces.
Composed by two bodies with a hinge connector, a push lock and two hinged figures 8 for extra security.
Mounted with 6 round brilliant cuts red garnets with a total weight of 4 carats.
The surface is fully decorated with characters of centaurs and nymphs, inspired by the artist Pablo Picasso, all of them engraved and embossed in very high relief. In this case, more specific to the art-piece titled, El Rapto de Jezabel Por Quiron el Centauro (1962) "The Abduction of Jezebel by Chiron the Centaur" (1962).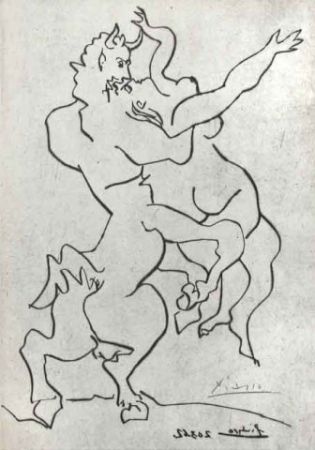 Chiron, in Greek mythology, is one of the Centaurs, the son of the Titan Cronus and Philyra, an Oceanid or sea nymph. Chiron lived at the foot of Mount Pelion in Thessaly. Unlike other Centaurs, who were violent and savage, he was famous for his wisdom and knowledge of medicine. Many Greek heroes, including Herakles, Achilles, Jason and Asclepius, were instructed by him. Chiron frequently appears in the legends of his grandson, Peleus, and his great-grandson, Achilles. Accidentally pierced by a poisoned arrow shot by Heracles, he renounced his immortality in favor of Prometheus and was placed among the stars as the constellation Centaurus.
This piece have a total weight of 123.2 Grams and fit a wrist up to 7.25 Inches (18.4 Cm). The width measure is 46 mm (1.81 Inches).
Stamped with the maker's mark and engraved with the signature, "FINZI .750".
Arrigo Finzi was the only Italian silversmith to be selected to participate in the exhibition "Italy at work, her renaissance in design today", promoted by the CNA (Compagnia Nazionale Artigiana) and hosted by 12 important American museums from 1950-1952 to present the best of the decorative arts produced in Italy since the end of the war. For years now, his production has also extended to porcelain decorated in pure gold. In 1952 he opens a store of two floors in Via Manzoni 17 in Milan and in 1954 he creates Finzi Arte, with the collaboration of his daughter Olga in the field of high end and one-of-a-kind jewelry pieces. Arrigo Finzi died in Milan on January 6, 1973.
Olga Finzi, was trained by her father, Arrigo Finzi, she joined his firm in 1960 adding spectacular one-of-a-kind jewelry to his atelier's masterworks in gold and silver. Informed by art and tempered by the Milan design scene of the sixties, the visual narrative of her works is delicate fine-tuned, and brilliantly fashionable. 
This rare bracelet is in perfect condition, with no dents or previous repairs, A truly museum piece.
INVENTORY REF: B0000IATN/2.961
---
More from this collection