Treasure Fine Jewelry
Georgian 1820 Allegory Of Beauty Grisaille Enamel Necklace In 18Kt Yellow Gold With Diamonds
Regular price
$6,950.00
$0.00
Magnificent Neo-classic pendant-necklace from the Georgian period.
A gorgeous antique pendant-necklace, created in Europe (most probably France) around the 1820's, between the kingdoms of George III (1760-1820) and George IV (1820-1830). It was carefully crafted, with impeccable details in yellow gold of high karats (18-19 Kt) with silver accents for the color contrast and the gemstones settings.
The mounting has been created, with geometric neo-classic patterns and is embellished in the center with an oval piece, painted with a delicate grisaille applications of hot enamels (Limoges?). The decoration depict the image of the Allegory of the Beauty, as a dressed seated young lady, holding a mirror and behind, at her feet's, a putti looking, facing up and holding a pearls-beads necklace.
Is accented around, with 44 prongs settings of finely gradated old European rose cuts diamonds, with an estimate total weight of 1 carats.
The combined weight of this piece is 15.2 grams.
The drop pendant, have a measures of 29 mm BY 60 mm (1.14 x 2.36 inches) and the 18 inches chain is available, just used for exhibition purpose.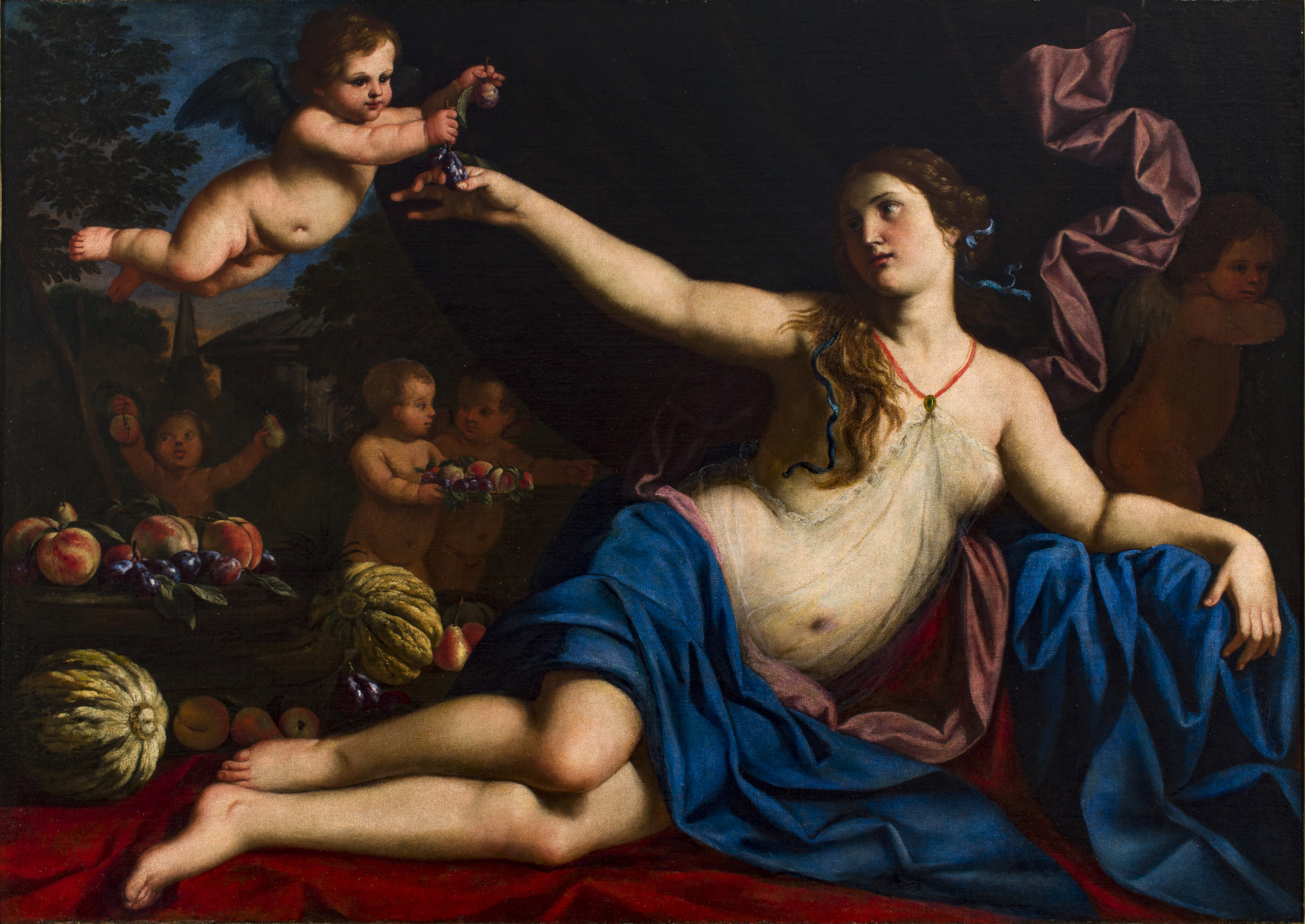 Abraham Brueguel                        Francois Liberti
  Allegory of Beauty, with the help of Putti.
Note: Most probably, the purpose of this piece, was for an engagement present or a pre wedding gift.
Note: Grisaille is a painting executed entirely in shades of grey or of another neutral greyish colour. it is particularly used in large decorative schemes in imitation of sculpture.
It is in great pristine condition, with all gemstones and parts originals from the period.
Collateral: It is accompanied by a presentation jewelry box.

Condition: The overall condition of this necklace is excellent. Beside the little normal wear, there is no damage to the gold. All the gemstones, are secured in the settings. This piece has been carefully inspected to guarantee the condition and authenticity.

INVENTORY REF: N0000AINN/.3653
---
More from this collection