Treasure Fine Jewelry
RAYMOND C. YARD 1950 EAR CLIPS IN 18 KT & PLATINUM WITH 5.62 Ctw OF DIAMONDS AND RUBIES
Regular price
$4,750.00
$0.00
GORGEOUS PAIR OF EARRINGS CLIPS DESIGNED BY RAYMOND C. YARD.
A POST WAR PIECES MADE AROUND THE 1950'S. DESIGNED AS A PAIR OF LEAVES WITH THE LATE ART DECO AND THE NEW RETRO INFLUENCES. THEY ARE CAREFULLY HAND CRAFTED IN SOLID 18 KARATS YELLOW GOLD WITH PLATINUM SETTINGS. THE CRAFTMANSHIP, THE DETAILS, THE QUALITY OF THE GEMSTONES AND THE FINISH ARE IMPECCABLE. SUITED WITH A PAIR OF CONFORTABLE HINGED FRENCH OMEGA CLIPS.
PRONG SET WITH VERY FINE CALIBRATED GEMSTONES, 34 ROUND BRILLIANT CUT DIAMONDS, 3.06 Cts, E/F COLOR, VS-1 CLARITY AND 24 ROUND NATURAL RED RUBIES, 1.92 Cts.
ACCENTED WITH 16 BAGUETTE CUT DIAMONDS, ALL CHANEL SET, 0.64 Cts, E/F, VS-1.
THIS PAIR HAVE A TOTAL WEIGHT OF 15.8 Grams AND A MEASURES OF 30 mm (1.18 Inches) BY 22 mm.
IN 1898, RAYMOND C. YARD BEGAN HIS CAREER IN THE JEWELRY BUSINESS AS A DOOR BOY AT MARCUS & CO. IT WAS DURING THIS PERIOD THAT THE NEWLY AFFLUENT AMERICAN INDUSTRIAL FAMILIES BEGAN TO PATRONIZE AMERICAN JEWELERS LIKE TIFFANY & CO. YARD WAS ENCOURAGED BY JOHN D. ROCKEFELLER, JR., TO OPEN HIS OWN COMPANY; ROCKEFELLER RECOMMENDED THE YARD FIRM TO HIS FAMILY AND CONNECTIONS, AND SHORTLY YARD WAS CREATING JEWELS FOR THE WOOLWORTH, FLAGLER, DUPONT, HARRIMAN, AND VANDERBILT FAMILIES.

THE FIRM, RAYMOND C. YARD, FOCUSED PRIMARILY ON CUSTOM PIECES FOR THEIR CLIENTELE AND WAS KNOWN FOR SOURCING THE HIGHEST QUALITY OF MATERIALS THAT HIS CLIENTELE DEMANDED. STOCK PIECES WERE EXECUTED BY THE HIGHEST LEVEL OF OUTSIDE MANUFACTURERS, WITH YARD SUPPLYING THE STONES AND DESIGNS.
HIS CREATIONS EXEMPLIFIED THE UNDERSTATED ELEGANCE OF IMPECCABLE WORKMANSHIP COMBINED WITH THE VERY FINEST OF MATERIALS. RAYMOND YARD PRIDED HIMSELF ON HIS KNOWLEDGE OF GEMS AND WAS CONSIDERED ONE OF THE FOREMOST EXPERTS ON PEARLS.
LITERATURE: YARD, THE LIFE AND MAGNIFICENT JEWELRY BY RAYMOND C. YARD, NATASHA KUZMANOVIC, VENDOME PRESS 2007. Pp-61, FOR A SIMILAR PIECE.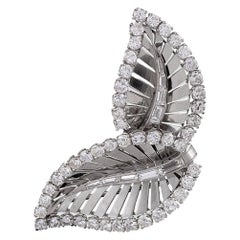 AS A NOTE, THEY ARE IN EXCELLENT CONDITION AND THIS EXACT MODEL WAS CREATED BY VAN CLEEF & ARPELS AT THE SAME PERIOD.
INVENTORY REF: E0000SNNN/.3798
---
More from this collection