treasure fine jewelry
FABULOUS 1880 GRAND TOUR MICRO MOSAIC BEETLE RING IN 17 KT ART NOVEAU-EGYPTIAN REVIVAL
Regular price
$2,950.00
$0.00
VERY RARE MICRO MOSAIC RING FROM THE 19th CENTURY. 
A GORGEOUS GRAND TOUR ALMOND SHAPED RING FROM THE 1880'S PERIOD. THIS ANTIQUE PIECE WAS MADE IN ENGLAND DURING THE VICTORIAN (1840-1901) ERA AND IS TOTALLY HAND CRAFTED IN 17 KARATS YELLOW GOLD. THE TOP PART IS EMBELLISHED WITH AN INTRICATE MICRO MOSAIC OF A SCARABAB. THE SIDES ARE DECORATED WITH ART NOVEAU ORGANIC ELEMENTS.
THE MICRO MOSAIC IS OF ITALIAN ORIGINS, CREATED FROM MORE THAN 100 PIECES, CARVED FROM NATURAL STONES OF BLUE LAPIS LAZULI, RED CORAL, BLACK ONYX, GREEN MALACHITE, CREME & WHITE MOTHER-OF-PEARL AND 24K GOLD.
THIS PIECE OF ART IS COMPOSED BY ELEMENTS FROM SEVERAL ARTISTIC MOVEMENTS, CAREFULLY MIXED TOGUETER, SUCH, THE FRENCH ART NOVEAU, THE BRITISH LIBERTY STYLE, THE VICTORIAN ERA, THE ETRUSCAN REVIVAL AND THE EGYPTIAN REVIVAL.
History Behind This Piece
BETWEEN 1860 AND 1890, ANCIENT CITIES WERE DISCOVERED, SUCH AS TROY, POMPEII AND ALEXANDRIA. ARCHAEOLOGICAL EXCAVATIONS IN EGYPT, GREECE AND ROME, DISCOVERED ARTISTIC PIECES OF THESE ANCIENT CULTURES. THESE FABULOUS DISCOVERIES, STIMULATED CULTURAL TRIPS TO THESE COUNTRIES, POPULARLY CALLED "GRAND TOUR". BEING THE CASE THAT THE ENTHUSIAST VISITORS BRING BACK SMALL OBJECTS, LIKE SOUVENIRS TO BE ASSEMBLED INTO JEWELERY.
THE STARTING POINT OF THESE TRIPS WERE IN THE CITIES OF ROME AND VENICE. THIS IS WHY THE CRAFTSMANS OF THESE CITIES CREATED SMALL OBJECTS WITH ANCIENT CHARACTERISTICS LIKE THE CENTER PIECE OF THIS RING.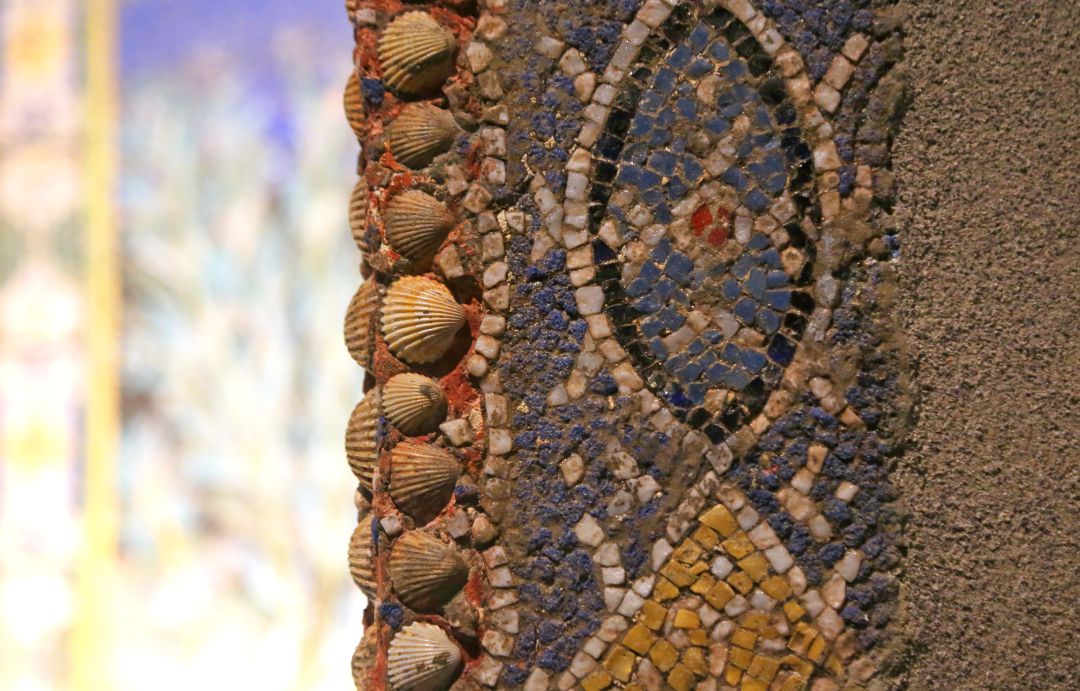 THIS RING HAVE A TOTAL WEIGHT OF 15.6 Grams AND THE ACTUAL SIZE IS 8.5, SIZE ABLE.

THE TOP VIEW MEASURES ARE 29 mm BY 24 mm AND RAISE 6.5 mm OVER THE FINGER.
AS A NOTE, THIS RING HAS BEEN ELECTRONICALLY TESTED FOR 70.7 % GOLD, EQUIVALENT TO 17 KARATS. IS IN OUTSTANDING PERFECT CONDITION WITH THE ORIGINAL 140 YEARS OLD PATINA INTACT. IS NOT POLISHED, REPAIRED OR HAVE MISSING PARTS.
INVENTORY REF: R0000MAIE/.3751
---
More from this collection