Treasure Fine Jewelry
Ancient Carthage Punic Gold Electrum Stater Coin 320 BC Mounted In 18Kt Yellow Gold With 1.33 Cts In Diamonds & Ruby
Regular price
$7,950.00
$0.00
Jeweled coin pendant with Ancient gold coin.
A impressive and beautiful ancient Punic gold (Electrum) Stater coin, struck at the city of Carthage in Zeugitane in the 3th century bc (Ca. 320-310 bc). 
Obv description: The portrait bust in profile of the chief goddess of Carthage, Tanit. She is shown facing to the left, wearing a triple long drop earring and beaded necklace, her hair is tied up, with a wreath of grains.
Rev description: A standing horse to the right inside a dotted border. (The symbolism of the horse is unknown, but potentially related to another ancient Carthaginian god).
The coin have a weight of 7.65 grams and the strike is exceptional, with nice medal alignment and zero axis. Fully well centered, with very high reliefs, superb details and a beautiful face.
The overall condition is EF+/EF+ or better, with remains of the original mint luster on both sides and the coin is virtually in mint state, as struck.
Literature references: SNG Copenhagen 977 Suppl. 97.5. Jenkins & Lewis, Group IV d, 224 (same dies)
The coin is carefully mounted in a custom made frame, crafted in solid yellow gold of 18 karats, with a movable bale of 10 mm on top to wear into a chain. The frame is embellished around, with a pave setting of 38 round brilliant cut diamonds (1.21 Carats, F color, VS-2 clarity) and 1 round cabochon cut (4 mm) of a natural Burmese red ruby of 0.12 carats.
The total weight is 13.95 Grams and the measures are 25.8 mm by 42 mm (1.01 x 1.65 Inches).
Stamped, with the gold assay hallmark, "18 KT".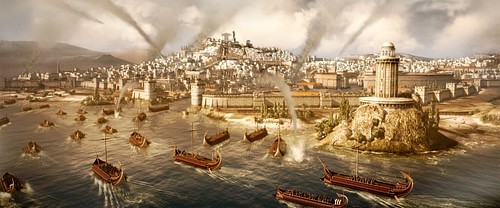 Note: Carthage, one of the great cities of antiquity, was ideally located on the North African coast in modern day Tunisia. Her position enabled her to become a powerful and influential city-state. Embodied, at one point, by one of history's greatest military leaders, Hannibal. Carthage was eventually completely destroyed in 146 BC by the Romans after a series of enormous battles known as the Punic wars.
Note: One gold Stater have the equivalent to 20 silver drachms or 50 copper pieces.
Condition: The overall condition of this pendant is excellent. Beside the little normal wear, there is no damage to the gold. All the gemstones, are secured in the settings. This piece has been carefully inspected to guarantee the condition and the authenticity
INVENTORY REF: P0000ANNM/.3353
---
More from this collection